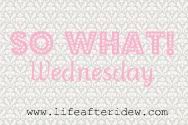 This week i'm saying SO WHAT! if....
1. I'm consuming so much junk here at the shore. Puppy chow is my weakness and my MIL made 2 bags. Not to mention all the brewskis I'm drinking on a daily basis.
2. I ordered an Erin Condren life planner and really don't have much to organize. It looked cute and i'm a sucker for anything personalized.
3. I'm like a little kid at a candy store when it's time for new school supplies. Just the thought of new notebooks and pens makes my heart jump. Seriously, my desk at school resembles a mini-Staples.
4. I'm eagerly awaiting buying new furniture if our new house deal goes through. My IKEA bedroom set has seen better days. Not to mention the coffee table in the living room that has spots filled in with black sharpie.
5. I'm a terrible cat owner. They have been abandoned all summer with all our trips and have probably put themselves up on PetFinder or Craigslist. Kitties need lovin too.
6. I get irritated that I can't comment on blogs from reader on my phone. That is where I do most of my daily blog reading and it's really an inconvenience. Therefore, im too lazy to go then comment on my actual computer. Sorry blog friends, I really do read it all.
7. I now have become one of those people who are constantly attached to their iPhone. I can't help it. My husband finds it incredibly annoying yet he will be playing Drop 7 when I need his help the most.
8. I didn't watch the bachelorette this season...I didnt watch Ali or Brad either. It used to be one of my favorites but im just not so into it anymore. I think I still hold a grudge from when Jillian choose Ed over Kiptyn. Or when Bob Guiney didn't choose Kelly Jo.
What are you saying SO WHAT! to this week?