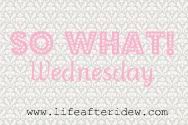 This week i'm saying SO WHAT! if....
1) I don't remember the last time I cooked. It's not exactly something I enjoy and I have no problem letting the hubby take over. It also helps that the FIL owns a meat shop. We get all of our meat and most groceries for free. Marrying into the food business is definitely a plus.
2) If i'm 26 years old and just finally got off my parents car insurance....But then again, i'm still on their cell phone plan. And they pay for my AAA membership and EZ pass. Thanks mom & dad for not cutting me off completely.
3) I don't understand the whole hooplah over the babes first birthday. Perhaps its because i'm not creative. If someone could send me a "everything you need to decorate for a party" package, I could get into it all. Any volunteers?
4) Saige's scrapbook is only complete up to 1 month...and she's now 9 months. Gotta get on that. Probably comes down to the above mentioned un-creativeness.
5) I don't give a shit about Amy Winehouse. She practically dug her own grave with all that she did to her body. Hopefully she will send a message to other addicts to stay in rehab for more than a few hours (ahem, Lindsay Lohan).
6) I told my husband he can't get any lovin' until I'm finished with this blog post. First things first hubs.
What are you saying SO WHAT! to this week?