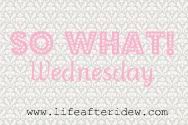 This week i'm saying SO WHAT! if....
1. I let S chew on credit cards and keys when she gets cranky in the car....hey, whatever keeps her happy.
2. I washed a pacifier off in the ocean last week...ew?
3. I have abandoned my husband in Philly and have been staying with my parents. Who would want to be in an apartment by themselves when they can be poolside everyday with free meals?
4. Baths have been substituted for evening dips in the pool. Chlorine cleans, right??
5. I ignore my MIL phone calls on a weekly basis. If we have to speak, i'd rather have her text. I think she's getting the hint.
What are you saying SO WHAT! about this week?