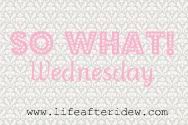 This week i'm saying SO WHAT! if...
1) I have typed most of my recent posts at work. When else do I get the chance to blog without a baby tugging at my legs? Or my husband giving me shit for not paying attention to him? I think he has developed some sort of jealousy over my new blog/twitter friends. He doesn't get it, they never do.
2) I have a spankin new Canon Rebel and no clue how to use 95% of the buttons. I could barely figure out how to attach the lens. I wish Best Buy offered some type of "learn how to use a DSLR" class...its clearly too time consuming and easy to just read the manual.
3) The sheets right now on our bed are Pottery Barn Teen...and pink/white stripe. They are soft..and the hubs doesn't complain. Speaking of sheets, does anyone elses significant other HATE having the sheets tucked in at the bottom? It annoys me to no end...please keep my side tucked in, thank you.
4) I'm more excited to see my brother and SIL's wedding photos than I was for my own. Speaking of, I haven't ordered one single wedding photo, how awful am I? My package included 3 8x10 prints, just the damn proofs are so small. I really need to get on that.
5) I'm pretty sure i've had athletes foot for the past year..so gross. And..it may have come from my labor & delivery hospital stay. I have the cream for it...i'd just rather itch it, damn I am nasty. Sorry loves.
6) I plan on donating half of my husbands wardrobe to Goodwill while he is away this weekend at a bachelor party. Who needs 2 full huge drawers of tshirts? Not him, the favorites just continue to get rotated.
7) This bachelor party means that I will have the TV & condo to myself from Thursday night to Sunday night. I can't contain my excitement about thoroughly cleaning aka throwing out junk..and watching trashy reality shows.
What are you saying SO WHAT! to this week?